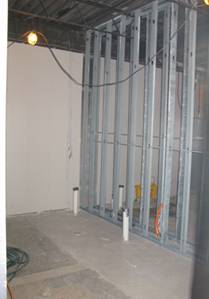 You may be thinking of changing the use of your commercial building with major renovations. You could divide it up into smaller spaces to get more rent. Or rebuild the interior for a new tenant that will not only pay higher rents, but also be more stable. You could also be thinking of renovating the building for your own use: offices, manufacturing, and/or storage.
And many buildings, especially here in the Utica area in Central New York, are pretty inexpensive for what you get. Bargain purchase prices make renovations profitable because you end up with exactly what you want without the high start up costs of the building itself.
Buildings like this in Utica are often old warehouses that you can easily rebuild into practically anything. And that includes loft apartments above street level commercial use.
You Can Avoid the Pitfalls of Major Commercial Renovation
I see a lot of people getting into some expensive trouble and heartache when renovating an existing building to change its use. You must consider some serious issues before you start your renovations.
Here's why…renovating a building to change its use can effect its compliance with building codes and zoning laws. Any existing property and liability insurance held by the building owner may also be rated on the current use. Premiums could change (either up or down).
And the neighborhood in which the building is located is used to seeing the building occupied as it is (or was). New building owners should consider how their neighbors and their community might view the proposed changes.
You can avoid these pitfalls by considering the effect of your renovations. I suggest investigating your local zoning laws, building codes, insurance, and the neighborhood BEFORE you start work.
5 Ways to Avoid Trouble When Renovating a Commercial Building
Here are the most important things you should consider before you invest in either the building or the renovations themselves.
1) Zoning
Each municipality has its own zoning ordinance. You must consult it right off the bat if you're contemplating purchasing a building and especially if you are contemplating changing the use of your building. For example, an existing building with business office space might comply with local zoning regulations, but a restaurant may not.
Imagine having to go before the Zoning Board of Appeals during construction, or after your building is finished and begging them for a variance. If you don't get it, you can't use the building for its intended purpose and you just wasted a lot of money.
2) Codes
Consider building codes and the cost to conform. Different types of buildings must meet the New York State Building Code in different ways. And there are many codes to consider: Fire Codes, Life Safety, Mechanical, Electrical and Plumbing Codes just to name a few.
An example here is an existing building with one toilet per floor. It may have been a warehouse, but you are thinking of converting it to a large office. Plumbing codes may demand more than one toilet in the Men's and Women's Rooms because of the new space's capacity for more people.
3) Property Size
Get a clear understanding of the size of your property. Will the area be big enough for your new use? Draw out the elements of the space: kitchen with fire suppression systems (Ansul System) if it's a restaurant, cubicles if an office space. Can the building function profitably with the area you have to work with.
If you have to add space, make sure the setbacks and area requirements meet the local zoning laws. I have seen cases where an owner knocked out a wall, added space, and unknowingly went beyond the zoning setback requirements. He had to tear down his addition!
4) Transportation
Think about the transportation you might need, especially if you're a manufacturer or warehouse. Are there loading docks? Make sure you are near the thruway or major highways for easy access and shipping. These are some of the advantage of older buildings in Utica.
5) Research the Neighborhood
Recently an organization whose work I greatly respect submitted a purchase offer on a building in downtown Utica. After the neighbors heard that the business was moving in next door, they raised a ruckus about it. They protested the business moving in next to their businesses.
Their protest garnered lots of unwanted publicity in the local paper, online, and in emails. In the end, the business decided to withdraw their purchase offer on the building even though they were legally allowed to be there according to the local zoning ordinances. The point is, think about how your renovated building will fit in with the neighborhood. Is it out of place? Do you anticipate push back from "concerned citizens"?
If you're thinking of major renovation with use changes to your building, I urge you to thoroughly consider all of the implications of the upgraded building on zoning, codes, size, transportation, and the neighborhood.
And if things get complicated, give me a call and we'll talk about making sure your renovation is smooth sailing.
Until next time,
Dan Berkhoudt, Architect
Dan Berkhoudt, AIA, LEED-AP is an experienced architect working in Utica, Rome, and Central New York. He specializes in new building construction and renovation both commercial and residential. Call 315.737.4416 or contact him here.